PCGS 35th Anniversary Reholder Special
February 1, 2021-March 31, 2021
We are celebrating our 35th Anniversary as the premier third-party coin and banknote grading and authentication service with a commemorative label.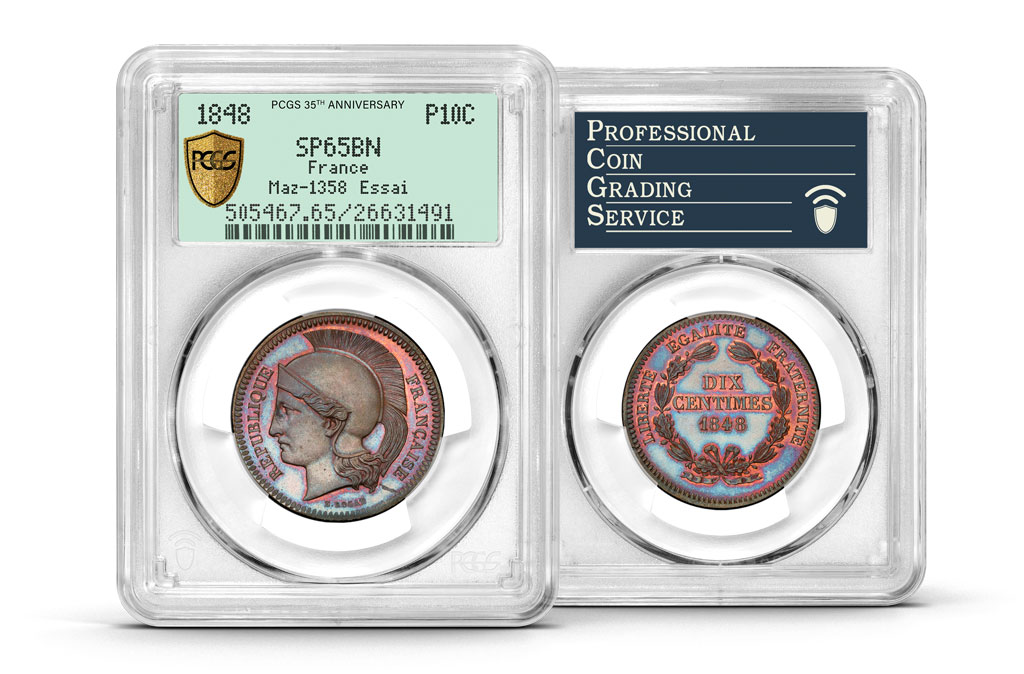 This limited-edition label is an ode to our early label design before the introduction of our famous standard blue vignette label.
This label is available for free through our reholder special or through our standard special label program for 7€.
FOR A LIMITED TIME, GOLD SHIELD REHOLDER SERVICE IS ONLY 12€
Don't wait, all orders must be postmarked by Wednesday, March 31, 2021 to qualify for this limited time special offer.
Reholder Special Guidelines
Valid only for Reholder submissions processed through PCGS Europe.
Gold Shield Reholder service will be discounted to 12€.
Valid for unlimited submissions during this special.
The 35th Anniversary label is available at no additional charge when requested through the February 1, 2021- March 31, 2021 Reholder Special or for 7€ when requested through our standard special label program.
All coins on the submission form must receive the 35th Anniversary label, no mixing of labels on the same form is permitted.
To request the Gold Shield 35th Anniversary Label, mark the "Other" service level line "35th Anniversary Label."
During the reholder special, all qualifying reholder submissions are 12€ and are eligible to receive complimentary PCGS 35th Anniversary Labels.
Guarantee Premium* fee applies to all Regrade and Crossover submissions. For additional information, visit the PCGS How To Submit page.
You must be a PCGS Collectors Club member or PCGS Authorized Dealer to submit directly to PCGS.
For any other questions, please contact PCGS Customer Service Monday through Friday 10:00 AM to 5:00 PM PDT at +33(0)1 40 20 09 94 or via email at [email protected] Our team members can assist you in English, French, German, Russian, Italian, and Romanian.
Additional Guidelines:
All submissions must be postmarked by Wednesday, March 31, 2021.
Turnaround time is estimated and will vary by demand.
Standard shipping and handling fees apply.
Valid for current Collectors Club members and Authorized Dealers in good standing.
Celebrating 35 years.