How To Submit to PCGS Banknote - Paris Submission Center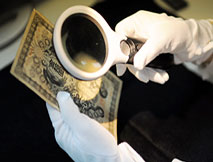 Banknotes can be submitted to the PCGS Paris Submission Center by mail or in person if you are a PCGS Authorized Dealer or Collectors Club member.
If you would like to join the PCGS Collectors Club, simply select the option on the submission form. If you are an established dealer, please contact us at +33 (0) 1 40 20 09 94 to discuss becoming an authorized PCGS dealer.
Submission Types
You may submit banknotes through the Grading, Regrade, Crossover, or Reholder Services.
Grading
For banknotes not encapsulated or graded by any grading service.
Regrade
For a banknote previously graded by PCGS Banknote, PCGS Gold Shield Grading, or PCGS Banknote Grading that you feel is worthy of a higher grade. Banknotes submitted under the regrade service sill be removed from the holder and regraded. Grading fees will apply whether the banknote upgrades or not. If the bankote grades lower, the terms of the PCGS Banknote Guarantee apply. For full disclosure of the PCGS Banknote Guarantee, visit pcgseurope.com/banknotes/guarantee.
Crossover
For a banknote previously graded (currently encapsulated) by another grading service. Minimum Grade: PCGS Banknote will holder the banknote only if it meets or exceeds the specific request noted on the "Minimum Grade" column on the front of the form.
Grading Fees will apply whether the banknote crosses or not. Please specify one of the options in the minimum grade column. If you leave this area blank, PCGS Banknote will assume the minimum grade is the grade currently on the holder.

MINIMUM GRADE OPTIONS:
CURRENT – Requests banknote to cross at grade listed on holder.
ANY – Requests banknote to cross at any numerical grade (01-70).
OTHER GRADE – If you would like to specify a different grade than listed on the holder, write your minimum acceptable numerical grade.

Note the following limitation applies: First Print or any equivalent will not be recognized.
Banknotes that are currently encapsulated by other grading services may have issues that are not discovered until the banknotes are removed from their current holders. Therefore, PCGS Banknote cannot guarantee that a submitted banknote presently encapsulated by another service will not, upon removal from its holder, downgrade due to problems not seen on the note prior to its decapsulation. By submitting a banknote to the crossover service, the submitter agrees that PCGS Banknote is not liable in an event that a banknote is removed from its current holder and receives a lower grade than the grade most previously granted by another grading service.

Reholder
This is the re-encapsulation of PCGS Gold Shield Grading or PCGS Banknote certified banknote. Any banknotes submitted under the reholder service will not be regraded.
PCGS Banknote Services & Fees
Effective January 2, 2020
Service Level
Maximum Banknote Value (€)
Grading Fee (€)
Excludes VAT
Rarity
No limit
185

(+1% GP)*

High Value
25,000
170
Premium
10,000
80
Regular
2,500
45
Special Issues
1,000
32
Value
1,000
28
Economy (Pre 1960)
300
18
Modern ( 1960 - Date)
300
16
Bulk Consecutive
Min. of 25 consecutive banknotes
300
12
Bulk Non Consecutive
Min. of 50 non-consecutive banknotes
300
POR
Please contact PCGS Europe at

[email protected]

for more information.
Reholder
25,000
10
High Value Reholder
No limit
185

Gold Shield service includes a high resolution image of the obverse and reverse of the banknote.
* Guarantee Premium: 1% of PCGS Price Guide value or Declared Value. Applies to the Rarity service level.
Special Issues: Specimen, Proof, Error, and small commerical (private) issue notes must be submitted thorough this tier or higher.
Grading fees do NOT include VAT.
Additional Services
First Day of Issue
Service Price + 5€
First Print
Service Price + 5€
Oversized Holder
For banknotes larger than 19.5 cm x 21 cm
Service Price + 10€
For additional services, the extra fee will be charged if applicable.

WHEN SUBMITTING BANKNOTES BY MAIL:
Each banknote must be placed in a mylar (only one banknote per mylar sleeve) and packaged securely. All submissions must be accompanied by a PCGS Europe Banknote submission form.
We do not accept shipments via Post Office (either Registered or Secured mail). Submissions can be sent via courier of your choice, or delivered in person to the PCGS Paris Submission Center.
For additional information or to setup an appointment, contact Customer Service at +33 (0) 1 40 20 09 94 or email

[email protected]

.
All packages must be addressed and mailed to:

PCGS Submission Center
92 rue de Richelieu, Escalier G 2nd Floor
75002 Paris, France

WHEN SUBMITTING IN PERSON:
PCGS Paris Submission Center office is open Monday-Friday from 10:00 a.m. to 5:00 p.m
Appointments must be made in advance by calling +33(0) 1 40 20 09 94.

PCGS Submission Center
92 rue de Richelieu, Escalier G 2nd Floor
75002 Paris, France

Visit PCGS at numismatic tradeshows throughout the year and submit your coins and banknotes for on-site grading or take-home submissions (where applicable).

Paris Express Submission Schedule
Below are the cut off dates for submissions to be included for our Paris Express shipments:
January 7
January 21
March 3
March 17
March 31
April 14
June 2
June 16
June 30
July 14
July 28
August 11
September 29
October 13
November 4 (SUPER Express Shipment)
November 24
December 8
December 22
The submission deadline is 5:00 PM GMT +2 on the dates listed above. We suggest you call +33(0) 1 40 20 09 94 to schedule an appointment to drop off your coins in Paris or check our Show Schedule for an event near you.

Pick Up Information
Turnaround Time:
Express shipments will be returned within 4 weeks of the cut off date.
* All turnaround times are estimated.
Notification:
You will be notified via email by PCGS Europe when your order is completed and ready for pick up/shipment.
All orders must be paid prior to pick up/shipment.
Location:
In Person: PCGS Paris Submission Center
By Mail: Banknotes will be shipped to the delivery address provided by customers once an order has been paid.
Please note that customers are responsible for any postage/shipping fees.
At Trade Shows: Banknotes will be delivered to Trade Shows (when avaliable) at the customer's request. All requests for delivery to a Trade Show must be pre-arranged with the PCGS Paris Submission Center.
Please note that additional delivery fees may apply for this service.
Identification:
You must produce a passport/ID matching the information on the submission form.
Previously authorized individuals who are denoted on the submission form may pick up your coins with proper passport information.