PCGS Gold Shield™: The Most Advanced Anti-Counterfeiting Technology For Your Coins
In the words of PCGS Co-Founder David Hall, "when PCGS opened on February 3, 1986, we established impartial, third-party standards for authenticating and grading coins, generating unprecedented confidence for collectors wanting to participate in the market, and helping coin owners recognize the true value of their coins."
Today, 25 years later, PCGS raises consumer confidence and market values even higher with PCGS Gold Shield.™
PCGS Gold Shield Delivers Confidence and Value
The PCGS Gold Shield system ensures more precise and consistent grading, improves detection of altered or counterfeit coins, and recognizes the value of high-end coins within each grade. This means your coins receive the most accurate grades possible, helping them realize their true value in the marketplace.
PCGS Gold Shield achieves these goals with:
Unique registration of each coin
Improved detection of counterfeits and altered coins
All Gold Shield coins come with the PCGS unlimited guarantee
More likely recovery if a Gold Shield coin is ever lost or stolen
High-quality images available at no charge at Cert Verification
Simply put, it's the most reliable protection you can give your coins.
---
The Tightest Security for Your Coins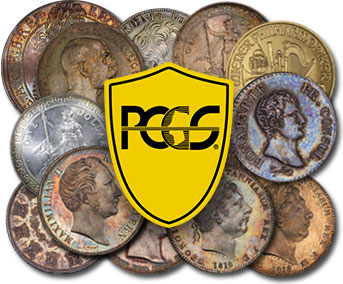 With PCGS Gold Shield service, each coin is laser scanned, imaged, and registered into the Gold Shield database. The system digitally captures the unique fingerprints of both sides of each coin. Gold Shield can also be used to perform a metallic composition analysis of your coin. And now, for your records and as a further deterrent to coin doctoring and counterfeiting, high-quality images of all coins submitted under Gold Shield are now available free of charge on PCGS Cert Verification.
Only PCGS Gold Shield utilizes this proprietary technology to detect if a coin has been altered in any way in an attempt to get an undeserved higher grade. If it's been tampered with, it will be revealed. If any irregularities are found, the results are forwarded, along with the coin, to the PCGS graders for further analysis.
If a PCGS Gold Shield-certified coin is ever lost or stolen and subsequently resubmitted to PCGS, it can be identified and the recovery process will begin for the rightful owner. And the special Gold Shield holder label has been engineered to further combat counterfeiting.
With PCGS Gold Shield, we're doing everything we can to safeguard your coins. All non-U.S. (World coins) minted prior to 1979 must be submitted under the Gold Shield service.
---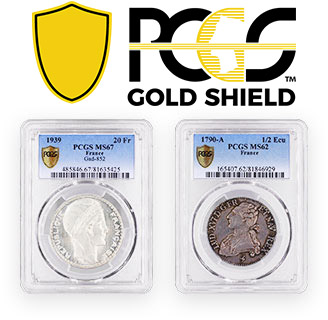 All grades are possible including Genuine.
PCGS Gold Shield provides protection for your coins, and gives our expert graders high-tech tools to help win the battle against coin doctoring and counterfeiting. In short, nothing protects your coins – and ultimately your collection – like PCGS Gold Shield.
If you're going to spend your money on the finest coins, shouldn't you choose the premier authentication service? Only PCGS Gold Shield delivers the peace of mind that comes from knowing you have done everything you can to protect your coins and maximize their value.
Get the ultimate shield against counterfeiting and coin doctoring. Email [email protected] and ask about obtaining PCGS Gold Shield for your coins.